How did becoming an owner make you save money? What about in 2023 ?
Updated on November, 30th 2022.
"Excuse me!? Noé, you know it is costly to become an owner? And you're telling us that in reality it makes us save money?… You are going to have to elaborate a bit."
Perfect! So let's start at the beginning, back in the days, my wife Zoé and myself used to live in an 80m2 apartments in the center Lausanne. Our rent was 2,200 CHF. The building did not pay much, it was even rather old-fashioned. But, on the market, the apartment was worth the hefty amount of 800,000 CHF.
(The owner achieves an investment return of (2,200 CHF x 12 / 800,000 CHF x 100) =3,3% !)).
We thought that if we could rent a property of this value, we should have enough solvency to buy one of the same amount. However we wanted something brand new. after researching a little, we found a rare gem just outside of town, in the stunning commune of Chalet-à-Gobet.
Without thinking twice, we put together the usual paperwork and present it to our banker, who then confirms that the bank agrees to loan us the necessary amount at a fixed interest rate of 1,2%.
This gem of an apartment, at the bottom of a brand new building costed us 770,000 CHF, including the parking spot. Our down payment, representing the 20% of personal investment required, amounted to 154,000 CHF. The mortgage loan on the other hand, is 616,000 CHF, divided in two ranks.
Clearly, a small correction is necessary since at the time we were in 2020-2021… Life was good, real estate-wise, rates were low or even very low. Rereading my article 2 years later makes me add some changes. The reality of rates today is closer to 3% at 10 years.
Let's look at the figures for the 2020 version: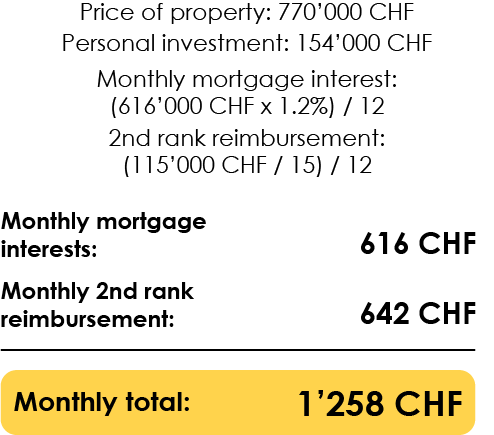 And now for the 2022-2023 version: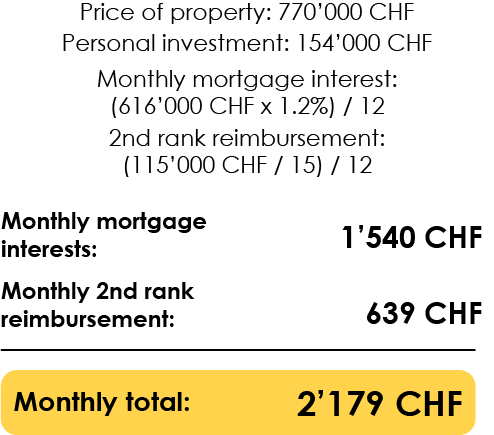 Each month, I used to pay 1,258 CHF to my bank, which amounts to the interests and the reimbursement of the 2nd rank loan over the next 15 years, but now I would have to pay no less than 2,179 CHF!
In simpler terms, in comparation with the 2,200 CHF of rents, I use to save 943 CHF per month to live in an apartment of the same value. Which amounted to 11,316 CHF of savings per year!
Better: after 15 years, if my mortgage had been concluded between 2020 and 2021 I would only have to pay CHF 616 per month to my bank, amounting to a saving of 1,584 CHF per month, or 19,000 CHF per year.

This is obviously no longer the case today, at the dawn of the year 2023… With an interest rate of around 3% for 10 years, the savings for the first 15 years are close to 0 CHF if we take into account only the rent of 2,200 CHF on one hand and the amortization and mortgage interest of 2,179 CHF on the other.
However, after the amortization period (i.e. after 15 years), the amount to be paid is reduced to the 2nd rank loan interest. In other words, as we have paid part of the debt (second rank) for 15 years, the debt will no longer be 616,000 but 616,000 – 115,000, i.e. 501,000 CHF.
What about the interest? If we go back to our figures, this gives 501,000 x 3% = CHF 15,030 / 12 = CHF 1,252.50 of interest to be paid each month.
Check out the following article to discover which surprises await you on your tax slip after buying property!
Discover our new online platform to entrust us with your tax return!
Complete your 2022 tax return online!
Answer a few questions,
Upload your documents and pay,
Enjoy life, we'll handle your tax return!
In the blink of an eye!
I entrust my tax return!