The full casco: a top-notch insurance
Now that the civil liability starter and the partial casco are done, we have reached dessert time. 
Let's have a closer look at this!
What is full casco insurance?
Full casco insurance, also called comprehensive casco or collision casco, is an insurance that covers exactly the same risks as the partial casco does, plus collisions (whether they be simple crashes or more serious accidents)!
Driving with a peace-of-mind add-on is the cherry on the pie.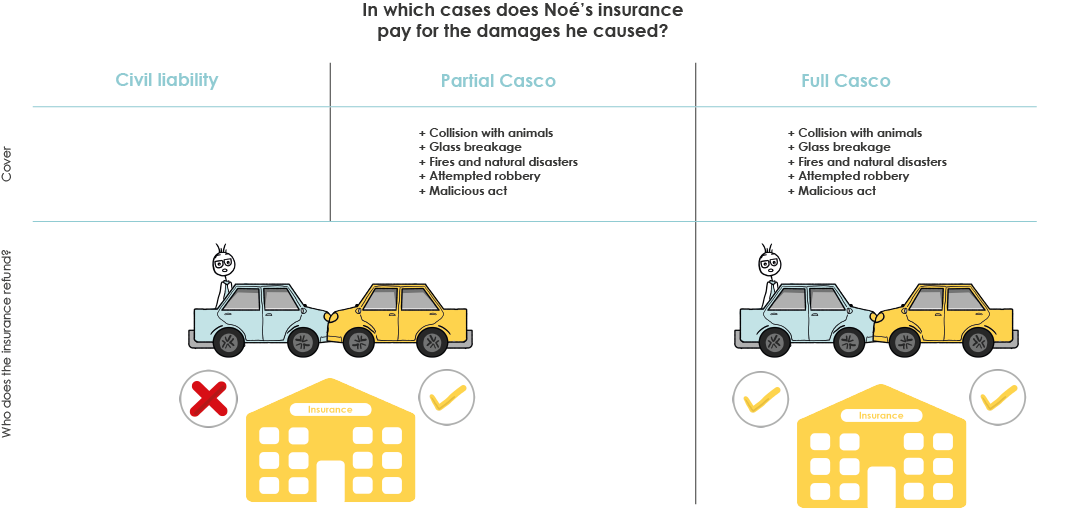 When is a full casco worth it?
While it is mandatory in order to purchase a leasing contract, the full casco is in general terms suitable for those who drive a brand-new car or an expensive car or for those who frequently travel on Swiss roads and care to be well protected.
It is a true financial armor that protects your vehicle.
Oh, I can fell my little finger move… It is telling me that your next question will be: "but, tell me Noé, when should I go from a full to a partial casco?"
Answering this question precisely is a delicate exercice comparable to walking on a long wire suspended between two cliffs. It is generally estimated that for the first five years of a car's circulation, a full casco makes perfect sense.
Also, after eight years of going left and right on the road, a simple partial casco insurance is considered to be sufficient.
And what about between five to eight years? It is a grey zone, the decision is entirely yours. It depends on several elements, including the total cost of your car, the means you will have available in case something happens, the amount of kilometers traveled yearly on average, etc, etc.
How much does a full casco cost?
The cost greatly varies depending on the requested services, of course. Let's take for example my current contract, which includes a full casco insurance for a leased Evoque Range Rover.
The gross annual premium is 5,215.30 CHF. The net annual premium, the one I actually pay, is 2,174.20 CHF.
What does the malus bonus system mean?
The gross premium corresponds to 100% of what would theoretically be required. Thanks to the bonus system, the premium is reduced to 75%, 50%, 40% or even 30% depending on the status and the history of the insured individual (age, licence suspension, accident, etc.). Each year that goes by without any problem allows you to retrograde to the tier below.
To circle back to my example, I pay 40% of the base premium for the civil liability insurance and 30% of the base premium for the casco.
For this full insurance, I thus pay 768 CHF of civil liability, including a serious error cover and a coverage of 100,000,000 CHF per incident, with a 0 CHF franchise.
I also pay 483.10 CHF of partial casco, which covers theft, natural disasters, glass breakage, special damage and personal belongings for up to 2,000 CHF.
To complete these two levels, I pay 809.60 CHF of collision casco, with a cover for serious error and compensation according to the base value, increased by 20% (I will explain this right below).
Finally, I also pay 113.50 CHF to cover potential passenger damages, including death expenses, invalidity expenses, daily allowances, daily hospitalisation allowances and treatment costs, illimited for five years.
Little bonus: a legal protection is included in the total, which amounts to 2,174.20 CHF.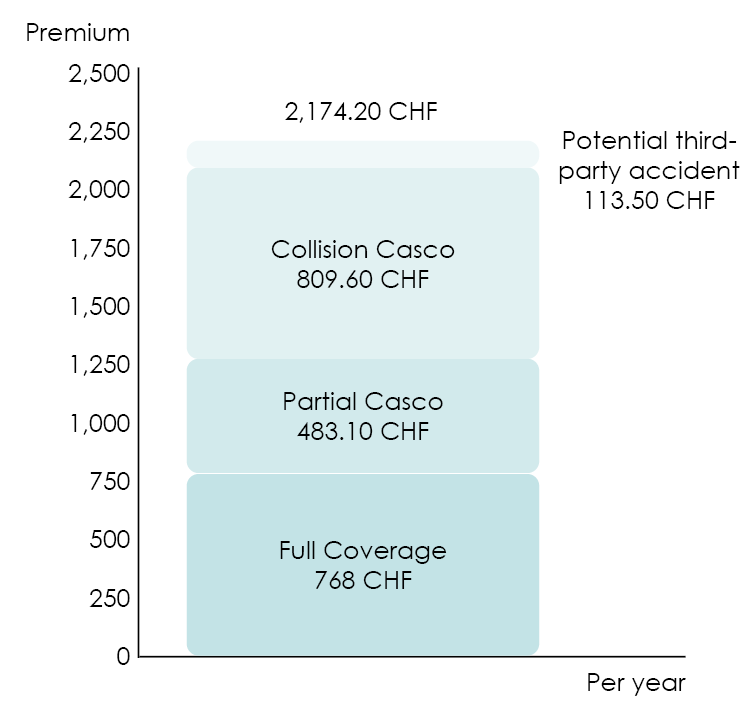 What is increased market value?
To keep it short, the market value refers to the price of your vehicle on the market. The increased market value intervenes in case of full damage to your car. It offers protection against the astronomical loss of value of a new car on the market.
If my market value is increased by 20%, the insurance will reimburse be, in the event of a full damage, the cost of my car on the market in its current state (right before the accident), to which it will add 20%.
Discover our new online platform to entrust us with your tax return!
Complete your 2022 tax return online!
Answer a few questions,
Upload your documents and pay,
Enjoy life, we'll handle your tax return!
In the blink of an eye!
I entrust my tax return!