Your tax return in the canton of Valais with FBKConseils
1. The first interaction!
The easiest way to get in touch with us is to send us an e-mail at [email protected] or call us at 021/ 601 07 22. You can introduce us to your situation, and we will explain you in detail how we work. If you have specific questions, do not hesitate to make an appointment directly on our website.
In order to complete your tax return, we will provide you with our checklist so that you can revert all the necessary documents to prepare your tax return.
2. The tax filing!
Once all relevant documents received, we handle the next steps. If needed, we will request from the tax authorities a deadline extension before sharing with you the finalized tax return.
3. Sending your tax return!
Once completed, we will address your tax return to the tax administration and share with a copy for a final check. Should the need be, we will stand-by to bring the final adjustments
4. Appointment and follow-up!
We offer our clients an appointment, free of charge, to review your tax return and advise you on the various extra deductions that could apply in the canton of Valais. This way, you will have enough time to ensure your situation is optimal for the following years.
How long does this process last and how much does it cost?
The time required to perform your tax filing heavily depends on your personal situation, and the complexity of your financials. On average, it takes 10 days to FBKConseils experts to finalize your tax return, once all required documents and information are received. On top of our processing time, you have to consider the time needed for you to gather the required documentation, as well as a waiting period from the tax authority to obtain the final decision of taxation.
Regarding the cost of this process, it heavily depends on your situation. You can either ask us for a personalized quote or take a look at the several situation examples below.
Get the quote applicable to your situation and keep required documents handy: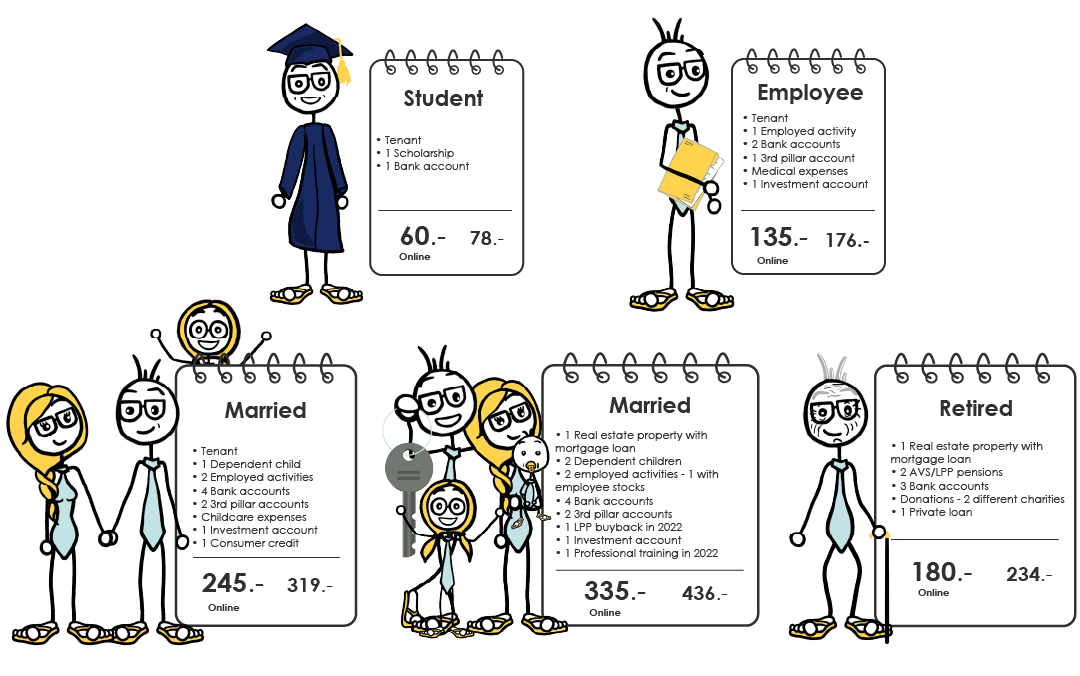 The rule is quite simple. Your canton and commune of residence as of December 31st of the fiscal year are decisive.
If your family status changes during the year, the same rule that applies to your residence also applies to your civil status. Your situation on December 31st will be taken into account in your tax return.
Whether you live in the canton of Valais or elsewhere in Switzerland, retirement pensions are 100% taxed as part of your income.
Each canton has its own particularities. For the canton of Valais, it is allowed to deduct 30'000 CHF for single people and 60'000 CHF for married people or people with children.
Until you receive the final tax decision, you are free to adjust it. You will then have 30 days from the receipt of the final decision to make modifications.