Filing your taxes in the canton of Vaud with FBKConseils: How does it work?
1. The first interaction!
Unless you select the traditional tax filing process and its numerous - sometimes messy, this depends on you - documents exchanges, we should have quite little interactions. We will welcome you to our platform, where you'll be guided and able to directly proceed with tax filing steps. If you wish so, we can arrange an initial meeting, free of charge. You can select the most convenient option for you: via phone, videoconferencing, or even at the office should you prefer to meet the team first!
2. The tax filing!
Once all relevant documents uploaded or shared in the traditional way, we handle the next steps. If needed, we will request from the tax authorities a deadline extension before sharing with you the finalized tax return.
3. Final submission and fiscal optimizations!
Upon tax return completion, we will share it with you for a final check. In case of questions, adjustments or oversights, we will have a 6-day slot to perform required modifications until the tax administration considers it as final. When validated, you will have the possibility to benefit from an advisory session, free of charge, so that we can wrap it up and focus on potential optimization items for the coming years.
How long does this process last and how much does it cost?
The time required to perform your tax filing heavily depends on your personal situation, and the complexity of your financials. At the busiest period of the year, it can take up to 30 days to FBKConseils to process your tax filing, once all documents are in our hands.
Now about how much will be your tax return, it is complicated to give a general estimate because everything depends on your situation!
So here are some examples of situations to have an estimate of the price. The prices shown are valid for an online tax return via our platform, for a traditional tax return, it is necessary to count approximately 25% more.
Get the quote applicable to your situation and keep required documents handy: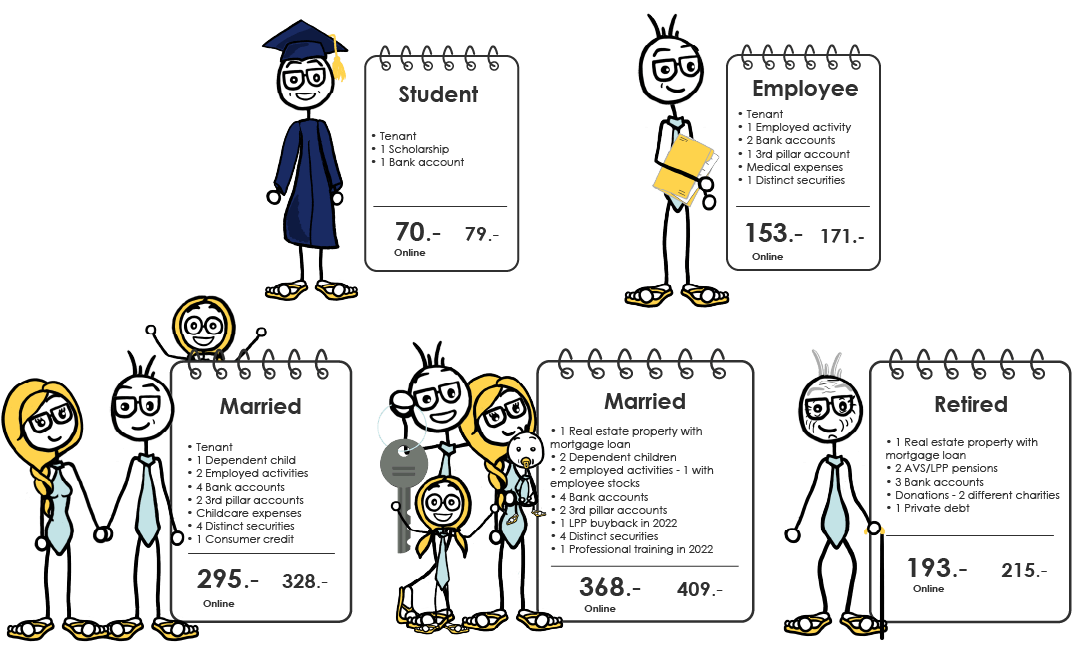 You probably got used to this type of answers living in Switzerland, but it all depends on the canton you live in. As an example, the canton of Vaud has set the deadline for March 15th, while Geneva and Valais chose March 31st. Nonetheless, all Swiss Cantons allows to differ tax filing by couple of months, but you'll sometimes need to pay for the delay.
Tax installment as well as how many of them should be paid depend on the canton. In Vaud and Geneva, you will get 12 installments, while in Valais, there will be only five. Despite this, it is often possible to pay it all at once.
It all changed in 2022. With the suppression of the simple rectification, it is unfortunately no longer possible to claim the standard deductions such as 3rd pillar, transport costs, meal costs. Should you desire to apply deductions to your revenues and potentially decrease your tax burden, you will have to go through a subsequent ordinary taxation. You will have to file the same tax return as a Swiss resident or a resident with a C permit. Once this subsequent ordinary taxation is done, you will be able to claim the full amount of the authorized deductions.
That's rather easy. If you were already taxed in Switzerland the previous year and your situation has not changed much, your instalments will be calculated on the same basis. However, if this is the first time you are to be asked to pay tax in instalments, visit the website of the relevant tax authority to see if there is a tax simulator to find out the amount. If this is not the case, do not hesitate to contact us.
Depending on the canton you live in, you may receive a call from the tax authority, or postal mail accompanied with "late fees" also known as moratory interests. For example, in the canton of Vaud, this interest amounts to 3.5% per year in contrast to 2.51% in 2022 for the canton of Geneva.
If you fail to pay the required amount of tax, the tax authority is entitled to tax you at its discretion and to collect a fine for non-compliance with the procedure. If this penalty remains unpaid, the tax authority will initiate a procedure with the debt collection office of your canton to claim the unpaid amount. You will therefore have debts to the tax authority of your canton.