Filling your taxes in the canton of Geneva with FBKConseils: How does it work?
1. The first meeting !
To fil your tax return in Geneva, you can contact us by email, or call us directly at 021/601.07.22. If you prefer, you can also make an appointment on our website so that you can introduce us to your situation and ask all your questions.
2. Let's gather information!
To start, we will provide you with our checklist of needed documents to properly perform your tax return. Once we have everything we need, we will create your file and start to work. If necessary, we will ask the taxation authorities for a delay.
3. Filing and sending your tax return!
Once your tax return is filed, we will directly send it and provide you with a copy so that you can also have a final check. We will take care of all the needed corrections.
4. Tax optimizations and follow-up!
Once the process completed, we offer to our clients an appointment, free of charge, to assess potential optimization opportunities in Geneva for the following years.
How long does this process take and how much does it cost?
The time needed to fil out your tax return mainly depends on the complexity of your personal and financial situation. Once all required documents are in our possession, it takes approximately 10 days to FBKConseils specialists to finalize the tax return. But on top of these 10 days, you should consider the time you need gather all the useful documents, as well as a waiting time from the tax authority to revert with the final taxation decision.
Regarding the cost of this process, it heavily depends on your situation. You can either ask us for a personalized quote or take a look at the several situation examples below.
Get the quote applicable to your situation and keep required documents handy: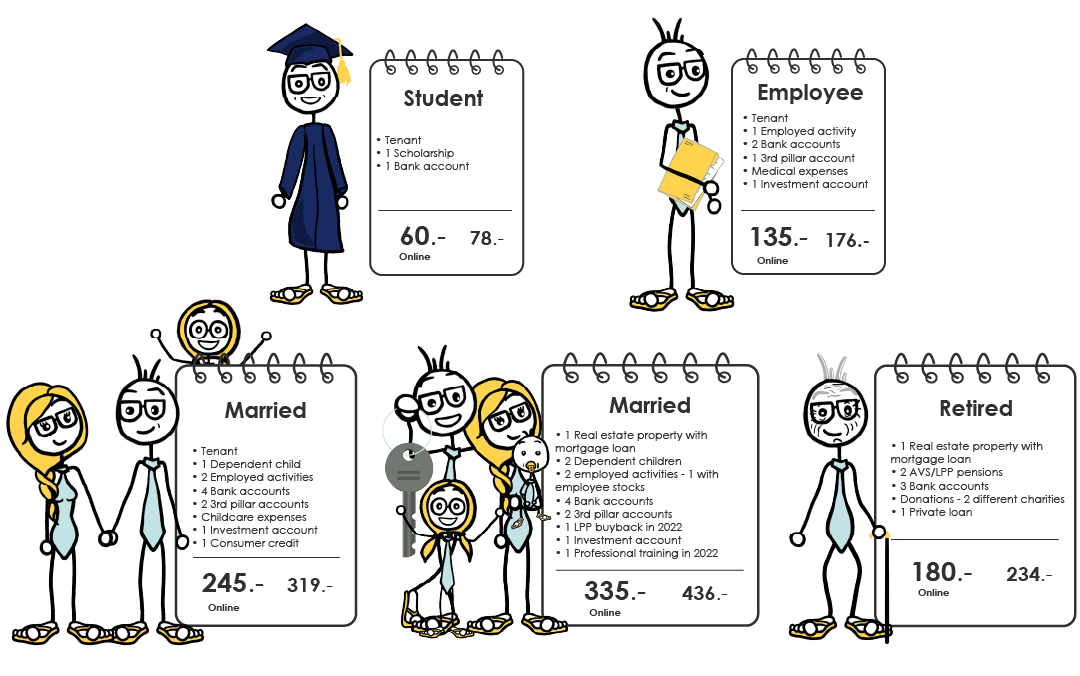 In the canton of Geneva, you must have submitted you tax return by March 31st. If you can't meet this deadline, it is possible to ask for an extension up until October 31st.
It is mandatory in the canton of Geneva to pay tax instalments. There are two possibilities: you can select a one-off payment, for the total amount, in February – so that you benefit from a slight discount, - or you can stagger the total over 10 months, from February to the end of November.
Until 2022, people taxed at source in Geneva could fill in the simple rectification form in order to deduct a given set of core expenses (such as a 3rd pillar, meals, transportation, etc). But today, no deduction will be accepted, unless you ask for a subsequent standard taxation (the famous TOU in French). This means that you remain taxed at source but ask to be taxed as a Swiss citizen or holder of a C residence permit.
Geneva tax authorities give access to a tax simulator on their website. Once you have filed your information, you will be provided a tax overview. From this point you will find out the amount to pay in instalments. One point of attention, the precautionary principle is key as Geneva tax simulator is not the most precise, and there will probably be corrections brought after you send your tax return.

In Geneva, and many other cantons, there is two types of delays, each leading to its own repercussions:

- Late in handing back his tax return: The canton of Geneva allows you to delay the submission of your tax return. Delays can be charged, and the later you are, the more expensive it gets.
- Late payment of taxes: Upon receipt of the bill in your maibox, you will have no more than 30 days to pay it. Then, you will be fined proportionally to the amount resulting from that final taxation decision .
Since 2022, the simple rectification has been modified so that it is possible to claim corrections on the scales to be applied, on changes in the spouse's income, on changes in the children's income. Conversely, it no longer allows you to claim deductions as such. If you have expenses (2nd pillar purchase, 3rd pillar contributions, transport, meals and others) to claim, you will have to file a subsequent standard taxation.