How much does the LAMal cost and how to choose one's health insurance?
If you do not know yet or if you had forgotten, let me remind you that no matter what company you pick, you will receive the same cover! No difference between insurance companies. 
The benefits do not change from one health insurer to another, since they are all determined by the same law. However, the price you will pay each year will depend on five elements.
The first four have to do with your personal information on which you have no influence. The fifth concerns the choice of your health insurer and can as much as double your premiums.
The five elements influencing the amount of your premium
Your age
Oftentimes, there are two age-ranges:
Some insurances offer an intermediate age-range going from 19 to 25 years old.
Your franchise
The higher the franchise, the cheaper the premiums.
While the first age-range can choose a franchise going from 0 to 600 CHF, adults can choose a franchise starting at 300 and capped at 2,500 CHF! It is therefore crucial to pick the right franchise since it will have a considerable impact on the monthly premiums you will be paying:
Adults: 300.- / 500.- / 1,000.- / 1,500.- / 2,000.- / 2,500.-
Children: 0.- /100.- / 200.- / 300.- /400.- / 500.- / 600.-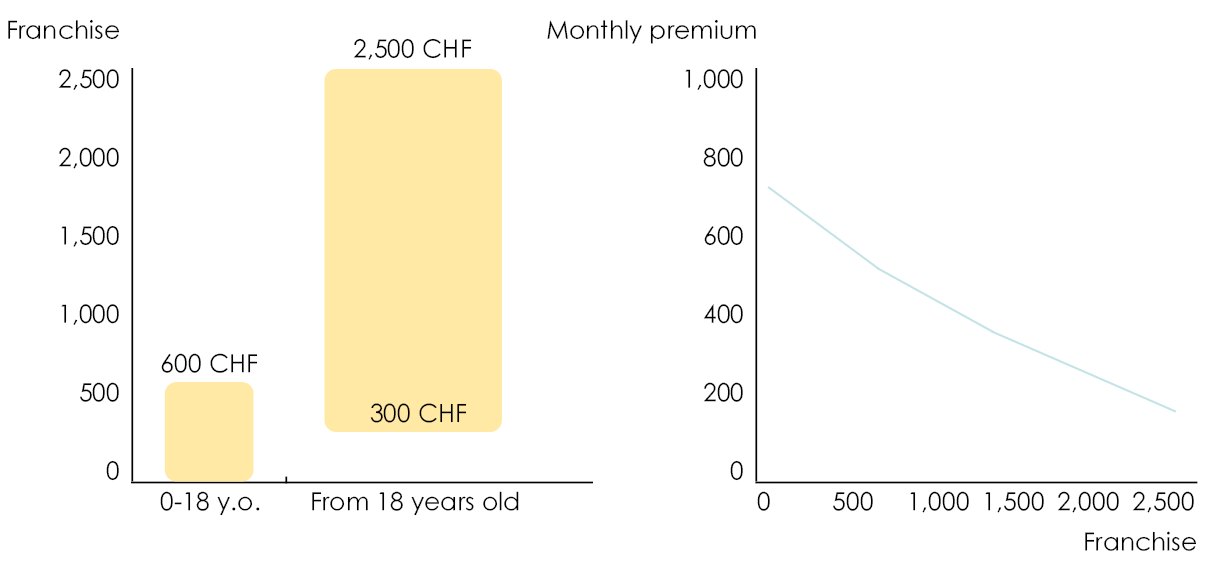 Your place of residence
If you live in a big city (yes, I know, in Switzerland, Yverdon is already considered a town!), you will pay more than if you live in the countryside.
Why? Simply because insurers divide populations into risk groups. Is it still unclear? Let's put it this way: in the city-centre of Lausanne, the population density is a lot higher than in the nearby small village of Colombier. There will thus be considerably more treatment requests in Lausanne than in Colombier, resulting in the fact that an individual living in Colombier will most likely pay less expensive premiums than someone living in the city center.
Your care package
Actually, it does not vary from one doctor to another, but it rather depends on the care package you chose.
The basic insurance package
It is the most expensive package on the market, but also the most attractive one, that makes sense…
It is offered by every health insurance company and gives total freedom in picking the healthcare specialist of your choice (hospital, family doctor, telemedicine). In case you require treatment, you can freely choose who will be your first contact person.
The family doctor package as a first contact person: premiums at a discount
This package allows you to get a significant discount on the insurance premiums but it also compels you to get in touch with the doctor designated by your policy as a first person of contact. For a doctor to be eligible, he/she has to have signed an agreement with the insurances. Thus, not any doctor can be chosen.
You must inform yourself by asking your insurer whether you can benefit from such an advantage with your family doctor.
Either way, this package offers advantages! But some companies offer even bigger discounts if you choose a certain doctor.
The telemedicine package, over-the-phone consultations: discounted premiums!
This package allows you to get lower premiums, but (of course, against something in return…), you will be obliged to contact the 24/7 hotline of your insurance at first. It will give you the first medical advice free of charge.
When you think of it, this package has a lot of advantages:
Your monthly premiums will be greatly reduced.
You will save on the first consultation fees, since you will have had it over the phone.
In case of a minor problem, you will directly get your prescription, without having to go to a doctor's office!
The health network package
Not only is it the least expensive package, it is also appreciated because it is copy-pasted from the good old family doctor model described above. The only difference is that you will not get to freely choose your doctor. It will be part of a list of doctors that your insurance preselected.
If you are lucky enough, your favourite doctor might be on the said list. This lucky coincidence would help you save quite a bit of money on your premiums. However, if your doctor is not on the list, then you will either have to accept changing packages and paying a higher premium, or benefit from the discounted premiums by leaving your doctor for another one.
This is not an easy choice, right?
Do not panic, it is not as bad as you think! These packages are decisive when the urgency of your health situation is low. Should you have a health emergency, you will always, no matter your package, have the possibility to go to the nearest hospital. The choice of package exists to determine "planned" appointments.
Your service provider
I am 30 years old, I live in Chalet-à-Gobet, my franchise is of 2,500 CHF and I opted for a free care package.
The premium amounts offered by various insurance ranges from 384.20 CHF per month to 647.80 CHF per month.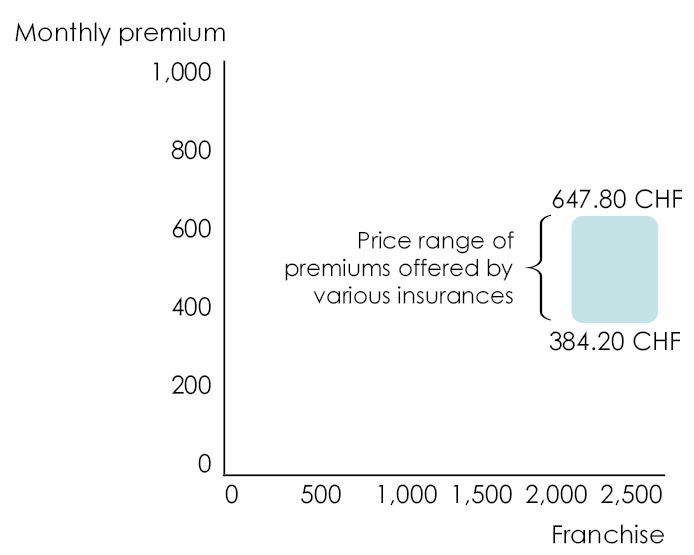 In other words, poorly choosing my health insurer can make me loose a few thousands a month while having a right and access to the same exact treatments. As those are determined and validated by the Confederation.
You might be thinking: "who on earth would go pay more expensive premiums to get the same service?" Ok, you are right, there is still an explanation:
The quality of the service is better (quicker reply time, faster reimbursement, third party paying…).
The management convenience in case of a full insurance: if you have supplementary insurances on top of the basic insurance, it is often easier to centralise everything with the same insurer in order to make the administrative processing smoother (as well as the reimbursement process). Especially since sometimes, in order to get supplementary insurances, the insurer will require for your basic insurance to be purchased with the same company.
There you go! Now you know everything you need to when it comes to the price of your health insurance and how to pick the company that will be taking care of your health well.
All there is left is to find out is whether or not you are subject to the obligation to get insured in Switzerland? And if so, what covers are offered by the insurance? What your contribution will be in case of a problem related to your health?
If after all this you did not find the answer you were looking for, do not hesitate to contact us!