Financing my real estate purchase: what is my mortgage loan made up of?
External funds, in a nutshell, is the mortgage loan. It is divided in two ranks that are important, because the calculation of the amount you will have to pay monthly will be determined by them.
To help you out, here is a breakdown of a real estate purchase as well as on what part we will focus on: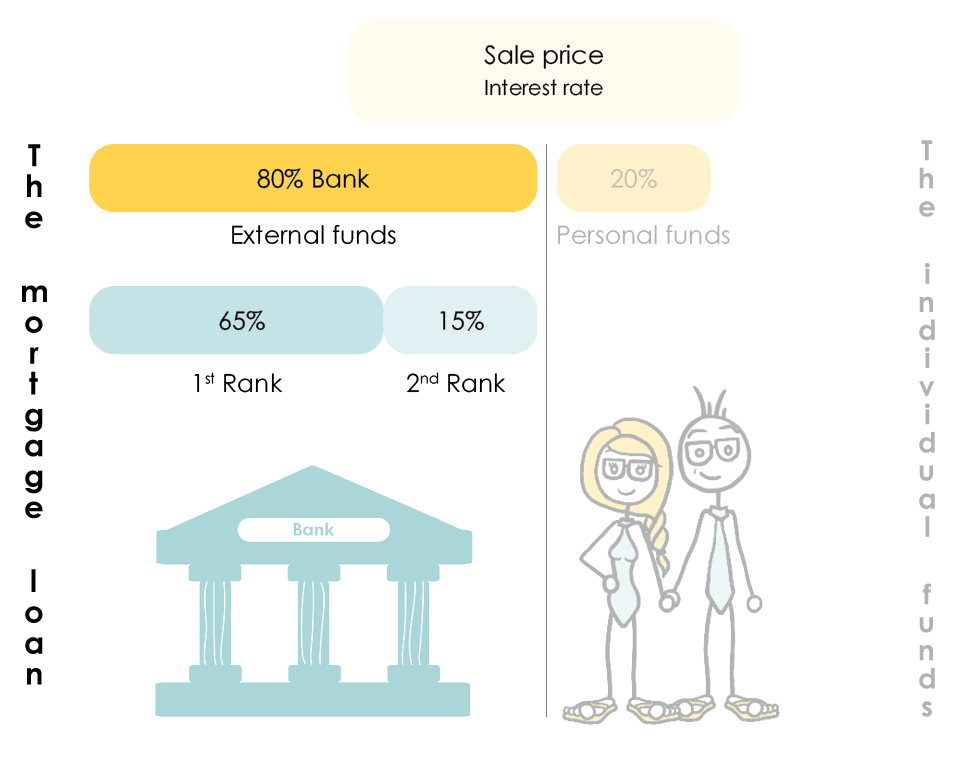 The 1st rank represents 65% of the property. The second one, 15%. If the apartment you are hoping to buy is worth 1 million CHF on the market, you will have to gather at least 200,000 CHF. The bank will loan you 800,000 CHF, of which 650,000 CHF will be of 1st rank and 150,000 CHF of 2nd rank.
The difference between the two is that you have to reimburse the 2nd rank over a maximum of 15 years or, at the latest, before retirement age. Whereas for the 1st rank, there is no time limit and, in most cases, it is never reimbursed. It can even be inherited.
Let's take myself as an example. After having decided to purchase with Zoé and after a bit of research, we ended up finding a pure gem on the edge of the city, in the charming commune of Chalet-à-Gobet.
the bank agreed to loan us the necessary amounts, at a fixed rate of 1.2%.
The sale price being 770,000 CHF, our personal contribution amounted to 154,000 CHF, the 20% individual funds required by the bank. We therefore need a mortgage loan of 616,000 CHF: 500,500 CHF of 1st rank and 115'500 CHF of 2nd rank.
If you want to calculate all these elements for your own situation, you should check out our solvency calculator!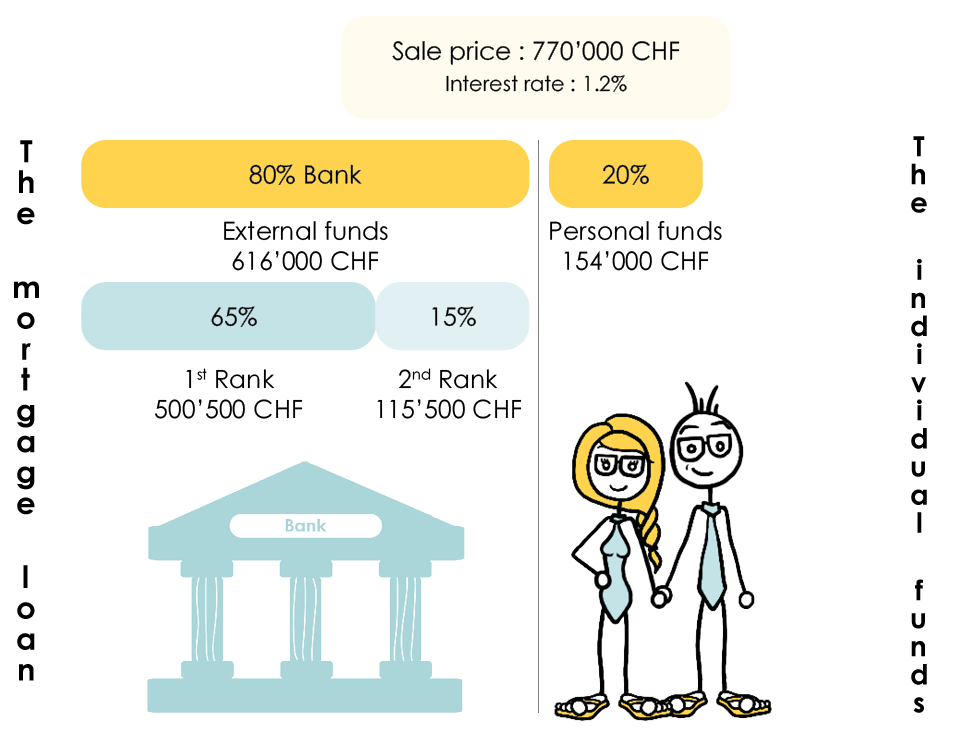 With a 1.2% interest rate, we have to pay an annual interest of 7'392 CHF to our bank (616,000 x 0.012).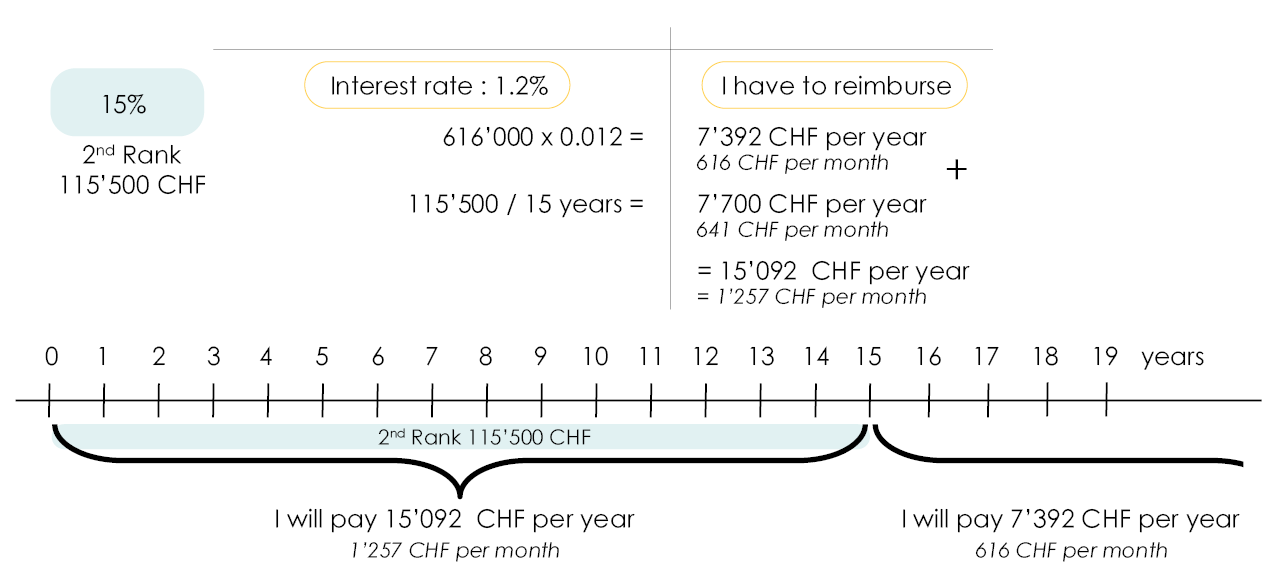 Case 1: we have to reimburse the 2nd rank in 15 years. Thus, to the 7,392 CHF responding to annual interests, 7,700 CHF are added. Each month, we will therefore have to pay 1,257 CHF during the first 15 years. Then, 616 CHF per month after the 1st 15 years.
Case 2: let's say I'm 55 years old (just for the example of course!) And that I therefore am 10 years away from the legal retirement age… Yes, It happens for everyone!
In this case, I will have to reimburse the 2nd rank in 10 years because I will be retired at 65 years old. So, to the 7,392 CHF, 11,550 CHF are added. I will therefore have to pay 1,578.50 CHF for the first 10 years. Then, 616 CHF after the first 10 years.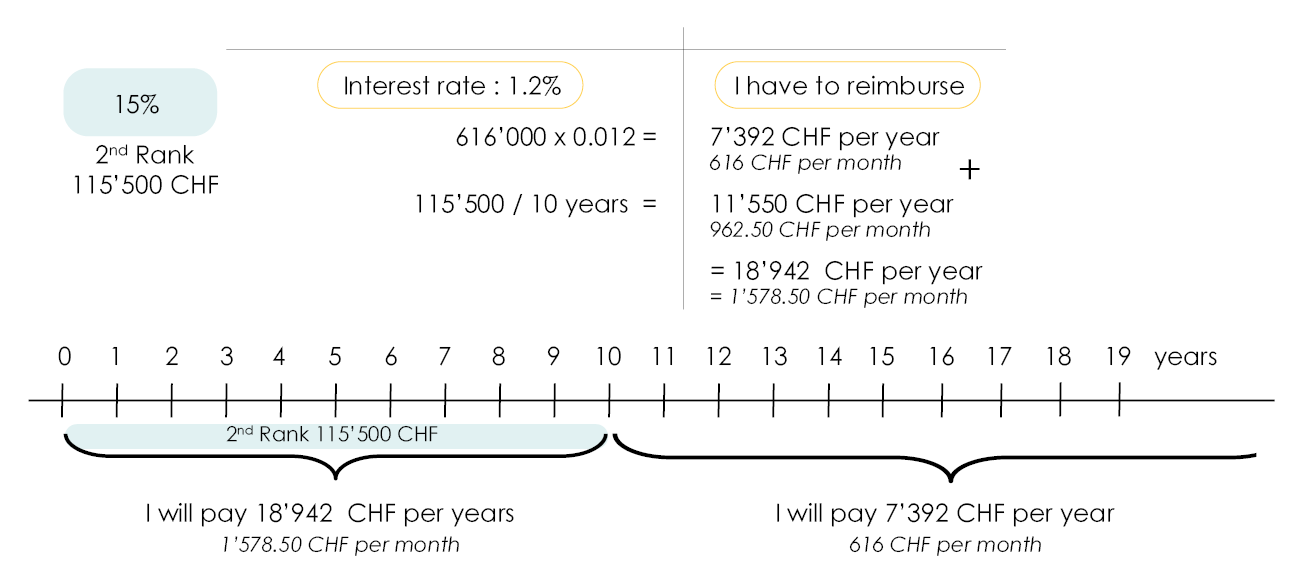 This reimbursement over 15 years is called amortisation.
There you go, now you know what your debt is made of.