Pillar 2 withdraw: the consequences of an EPL withdrawal
As you have probably read in our article explaining how the EPL withdrawal functions (or withdrawal under the homeownership promotion scheme), withdrawing your pillar 2 can truly help you boost your individual funds but at what cost?
You are taxed on your withdrawal
When you withdraw your pillar 2, you have to pay taxes on the amount received, regardless of the reason: moving abroad, retirement or withdrawal to start your own business.

But how much does it amount to? Don't worry, it is below the standards taxes, on average, it amounts to 1/5 of what you would have paid had this money been income. ( lien vers: how much money do I have to pay in taxes on a pillar two withdrawal)
The tax rates vary depending on the amount withdrawn but also from a commune or canton to another.
Therefore, Zoé who lives in Lausanne and withdraws 100,000 CHF must pay 6,000 CHF in taxes. If she lived in Zug, she only would have had to pay a little above 2,000 CHF, that is three times less.
In her first calculations, she had forgotten to take the taxes into account.
By taking out 100,000 CHF, she will not receive the entire sum but only 94,000 CHF. In order to pay 100,000 CHF to her bank, she thus has to withdraw 106,400 CHF.
Your future pensions decrease
Your future retirement pensions as well as your risk covers (death and invalidity) are calculated based on your total assets. If you decrease the value of your pillar 2, your pensions will most likely be lessened in proportion.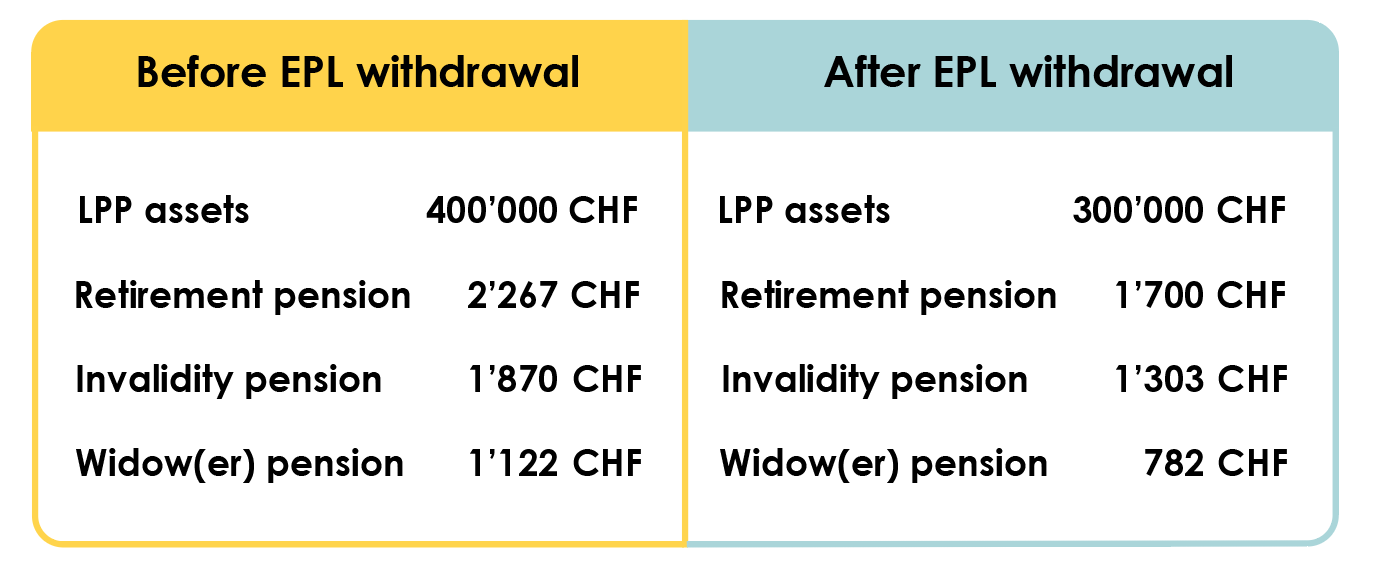 Withdrawing your pillar two is just as seducing as it is efficient to become a property owner. But the decision should not be taken lightly.
Do you know what would happen to your pensions after withdrawing? Do not hesitate, I am here, as usual.
Découvrez notre nouvelle plateforme en ligne pour réaliser votre déclaration d'impôt!
Réaliser votre déclaration d'impôt 2022 en ligne!
Répondez à quelques questions,
Déposez vos documents,
Et retournez vaquez à vos occupations!
EN UN CLIN D'OEIL!
Je confie ma déclaration d'impôt !