The EPL  withdrawal: how does this pillar 2 withdrawal condition function?
There are several reasons to withdraw your pillar 2 but at the moment the one we are looking at is very special and can drastically increase your chances of becoming a home owner.
If, just like me, you are not the best at irreprochably saving money with the ultimate goal of being able to afford buying your own home, remember it is highly likely that the biggest part of your savings is in your pillar 2 thanks to your contributions and those of your employer.
The icing on the cake is that the savings can be used for this purchase.
Let's have a look at this in greater detail!
Who can withdraw their pillar 2?
Anyone who contributed to the LPP insurance.
Let's take Zoé as an example. She wants to purchase a villa on the outskirts of the Canton de Vaud capital city. the property is valued at precisely 1 million. She has to finance 20% of the sum with individual funds, that is 200,000 CHF.
For the past 15 years, her and her employer have been paying a percentage of her salary every month on her occupational pension account.
She therefore meets their requirements to withdraw her pillar 2.
You will find the available amount for this withdrawal in the box: vested benefits assets on your pension certificate.
For what kind of housing can I withdraw my pillar 2?
You want to take out a mortgage loan for a rental property? Bad news: you cannot count on your pillar 2.
Same thing for a secondary residence. No little chalet at the top of a mountain thanks to your LPP assets. Unless you decide to go live at the top of one of our beautiful full snowy peaks.
Your pillar 2 can only be used to finance or reimburse your mortgage on your primary home in Switzerland or on a bordering territory.
What part of my property can be financed by an EPL withdrawal?
For your real estate property purchase, your banker will ask you for a minimum of 20% of individual funds.
The part from your pillar 2 can account for a maximum of 10% of the total amount. That is half of your individual funds.
If Zoé has 150,000 CHF available on her LPP account, she will be allowed to use only 100,000 CHF, corresponding to 10% of the amount of her property.
And for the remaining 10%? Zoé has several options:
Using her assets on her bank account.
Withdrawing her pillar 3 or putting up a life insurance as a guarantee
Asking for a donation or an advance on her inheritance
Borrowing the sun or part of it to a friend or a relative
Are you wondering about your capacity to borrow? Calculate it here.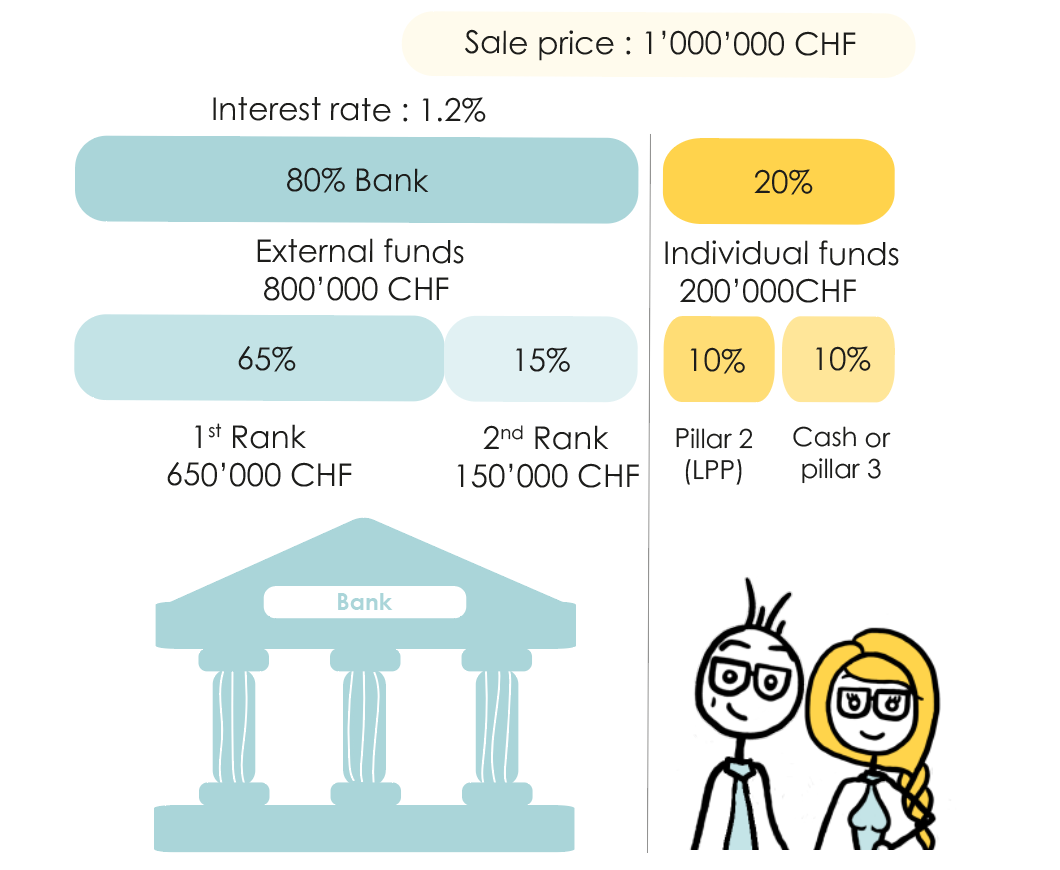 When can I withdraw my pillar 2?
You can access your LPP assets in full at any time over the course of your professional life… Almost.
If you are older than 50 years old, you can withdraw either the amount which was available when you turned 50 years old, either half of your current available assets.
If you are less than 50 years old, there is no maximal withdrawal.
However, there is a minimal withdrawal imposed at every age range, it is fixed at 20,000 CHF.
finally, withdrawals must be at least five years apart.
Since Zoé just turned 37 years old, she can have free access to her pillar 2, as long as the amount is higher than 20,000 CHF.
But if Zoé's mom, who is 62 years old, wanted to purchase the same property, the situation would be different. She would not be able to benefit from the LPP contributions she made between her 51st and 62nd year of life, but only those she made up until she turned 50 years old. Or else, she could decide to withdraw half of her current assets.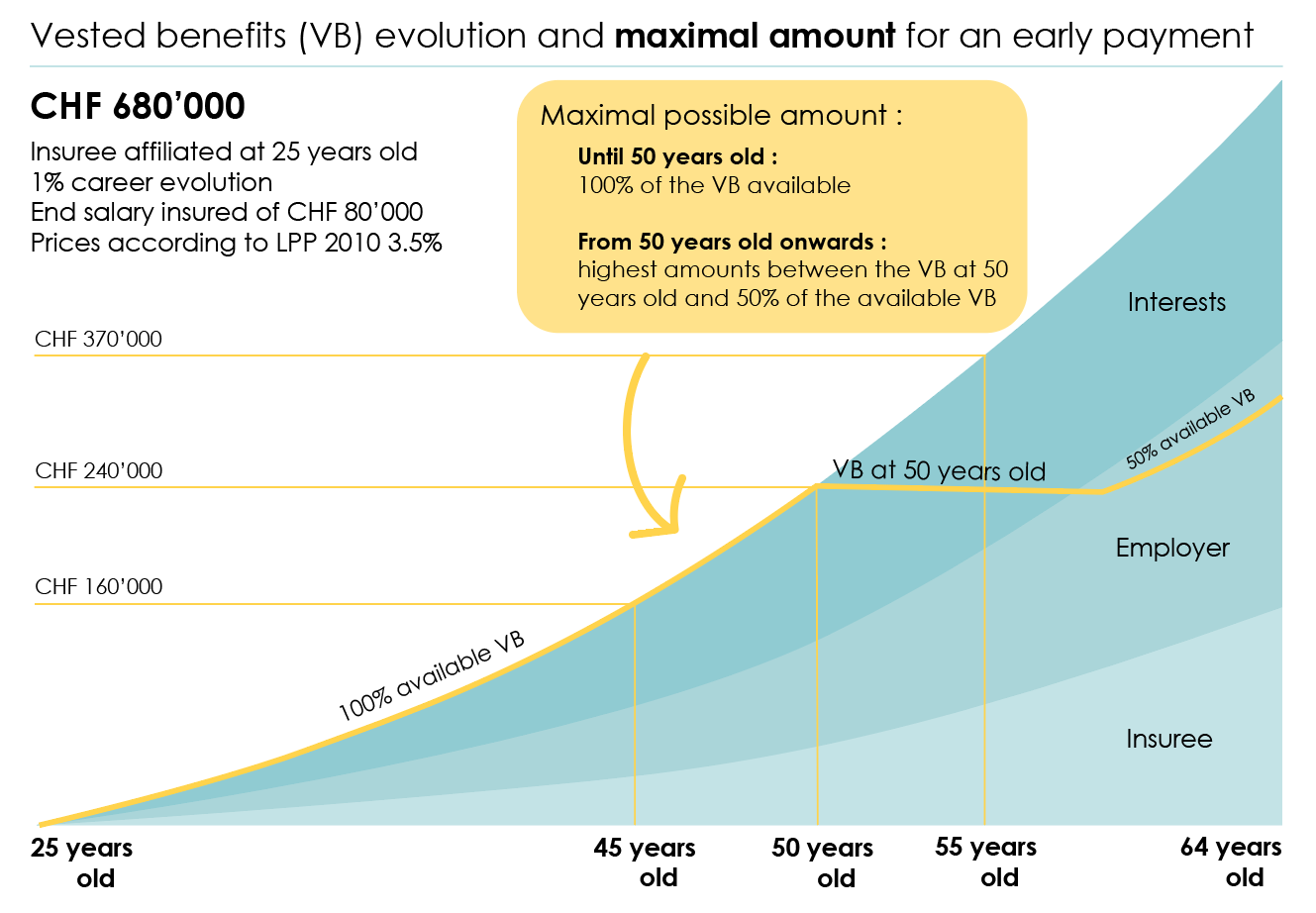 Should I reimburse the withdrawn assets?
Reimbursing money you duly earned over the years? What a strange idea! And yet…
If you resell or transfer your property, your pension fund will ask you for the withdrawn amount back.
apart from this scenario, you will not need to be imbursed the amount withdrawn.
And if you sell your property in view of purchasing a new one in the near future, put the amount on a policy or a vested benefits account. Here's a good way of keeping it warm and, who knows, perhaps yielding profit well you look for your dream home.
To sum up, as long as Zoé lives in her cozy nest, she will not need to reimburse the 100,000 CHF coming from her LPP savings.
What if she wants to reimburse it anyway? The idea is worth considering for the three following reasons:
Zoé will recover the taxes she paid on the withdral.
She can repurchase her contribution years, deductible from the taxable income as soon as she reimbursed what she had taken out in full
Her pension fund's services will go back to normal.
In short, taking out your pillar 2 to finance your property, is… good. But…
There is always a but… but you are in luck, I also took the time to prepare an article explaining in detail all of the consequences of this withdrawal.