What is the retirement age as of 2023 in Switzerland?
Up to 2024, one could have written: "I'm a man, so I can retire when I'm 65. My wife, for her part, can retire one year earlier than me, at 64."
As of January 1, 2024, important changes are about to occur, brought about by the enactment of the OASI 21 bill [AHV/AVS—Old-Age and Survivors' Insurance reform of 2021].
The first major change concerns the number of years of contributions required for women who wish to receive a full pension. Both women and men will have to contribute to their schemes for 44 years, compared to 43 years previously.
After 44 years of faithful service, we speak of an ordinary retirement or, since the adoption of OASI 21, of a reference retirement age; but you can either retire early or postpone your retirement.
As soon as I found out about that, I immediately wanted to take up an option on that early retirement! But there is a catch… While it is indeed possible to retire one or two years before the agreed-upon age, this departure leads to a significant decrease in OASI pensions. What is true for the Pillar 1/first pillar is not true for the Pillar 2/second pillar: It is possible to recover or request your OPA [Occupational Pensions Act—LPP] pension up to five years before your retirement age.
On the other hand, you are allowed to retire one to five years later than normal. At first, I did not get the point… Until I was told that doing so would significantly increase my future OASI pension! That's sexy…
Shown below, the regulations in force until January 1, 2024: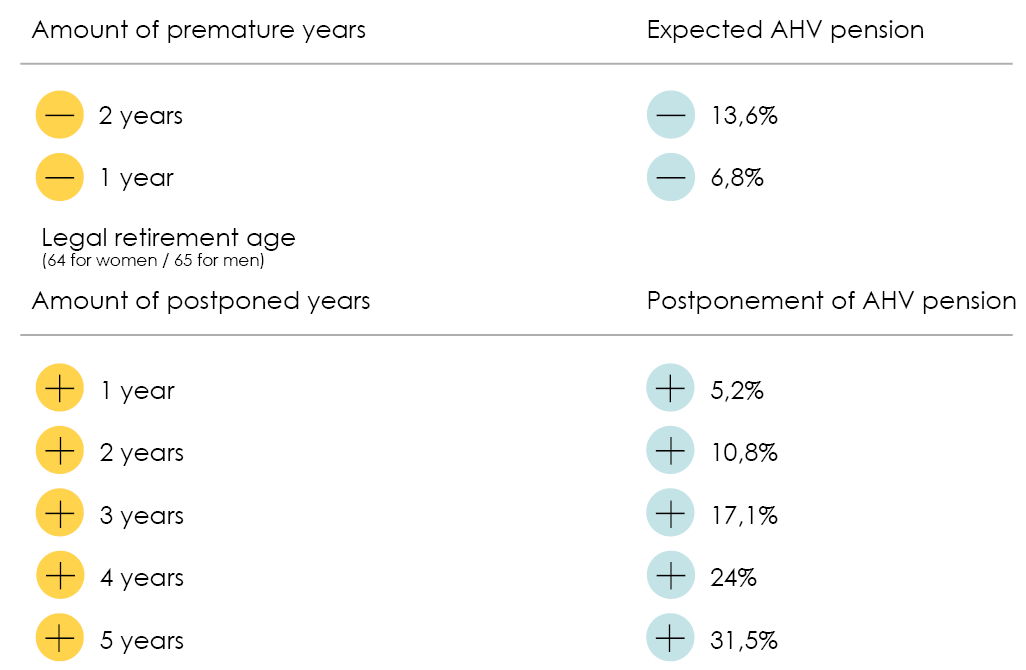 Here are some of the changes brought about by this new reform:
As you read this, the only option is to defer your retirement by either one year or two. Starting in 2024, the maximum postponement remains two years. However, between your 63rd and 65th birthdays, you can choose the last month you will work.
As shown in the illustration above, delaying your pension reduces its value by between 6.8% and 13.6%. This reduction will be mitigated to better reflect life expectancy
Similarly, postponing your retirement would increase your pension annuity, thus cutting back on your benefit.
When the time comes, we are going to publish the retirement anticipation and postponement rates on our website. Not being eligible to recover one's first pillar for being too young is one thing, but nothing prevents you from retiring sooner. The only thing to keep in mind is that, as long as you do not contribute to your OASI retirement pension scheme—e.g., because you are a student, an annuitant, or unemployed, etc.—you are required to contribute as a non-economically active person. If you don't, you will have gaps in your contributions and will not qualify for a full pension.
Discover our new online platform to entrust us with your tax return!
Complete your 2022 tax return online!
Answer a few questions,

Upload your documents and pay,

Enjoy life, we'll handle your tax return!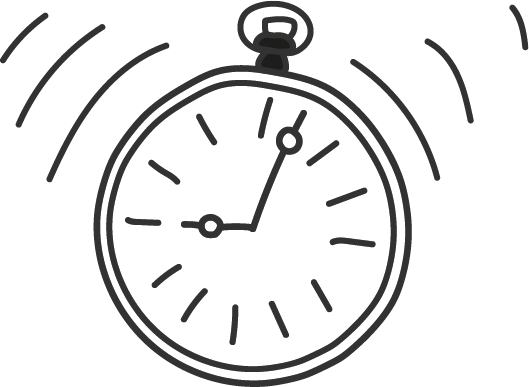 In the blink of an eye!
I entrust my tax return!